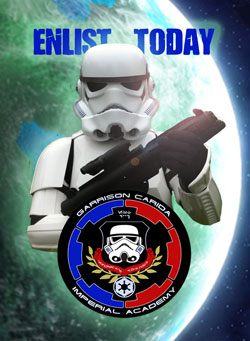 Join Garrison Carida
Looking to participate in the community? We are always accepting for new recruits! Serving Pennsylvania, Delaware and West Virginia, Garrison Carida's® members focus their trooping on primarily charitable events throughout these areas for the 501st Legion. We attend hospital visits, community events, march in parades, attend movie premieres and video releases, as well as several conventions.
New to the 501st and Garrison Carida?
Step 1:  
Join our Academy! We have a section of our main forum dedicated to answering your questions, help you find armor and costuming resources, and get you ready to begin trooping!Please note: You must be at least 18 years of age or older to join.
Step 2:  
IMPORTANT! To have your Academy account activated, please review the questions below, and provide us with the requested information so we can get your account set up correctly.

Please respond within 48 hours to insure your account is not deleted.

Email us the following:

Your full name
Your city and state
Your forum Username
Your email address
The costume you'd like to build
Are you 18 years of age or older?

Once your Academy account has been activated, post a greeting to the counselors and other cadets to get the ball rolling, and so they know which costume you plan to work on. Our Academy staff and counselors are ready to help you get under way.
If you have any additional questions, please direct them to the Garrison Membership Officer